LIFE OF AZXOLL NOW HAS ITS OWN WIKI. SEE IT HERE.
The term Life of Azxoll refers to the Youtube series by the Hive's own KingAzxoll9 on Youtube. So far, the series has various single episodes, multipart episodes, miniseries, two seasons, and a few specials. The series is in association with Hive, and the Hive in turn supports Life of Azxoll, as KingAzxoll9 is the member that creates the series. (This is why this page exists on the Hive WIki.)
Creator
KingAzxoll9
Genre

Comedy

Documentary

Reality

Run

June 6, 2013 - September 14, 2013 (cancelled)

October 23, 2013 - present (renewal)

Seasons
2 (3 if counting Lost)
Episodes

170 (overall)

72 (season 1), 98 (season 2)

Episode Running Time
0:08-22:23
Description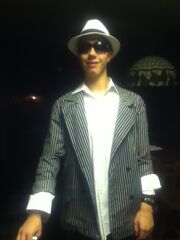 The Youtube series Life of Azxoll is a mild comedy series by KingAzxoll9, or Zach, which chronicles the everyday antics of Zach's life through his friends, family, peers, pets, and more. Various characters are featured throughout the series, many of them containing a slight comic element to them. The events that are filmed have no particular theme or element; their primary purpose is to find random events in Zach's life that provide a slight comedy. It is planned in the future seasons, however, that the epidsodes may perhaps contain a similar storyline.

Most season 1 episodes of Life of Azxoll are commented to have poor video quality, as the episodes only have been filmed with Zach's iPod Touch, which has been stolen, dropped, and more based on the course of action of each episode. Only some project-related episodes ("To Kill a Mrs. Dubose," "Opportunity Cost Project," "German Gibberish") have better quality, filmed with actual video cameras. Beginning at "A Trip Named Antonio," however, KingAzxoll9 was forced to begin using another device, his Galaxy S4, which has higher video quality and filmed all episodes through season 2.

On September 14, 2013, Life of Azxoll was temporarily cancelled due to consent issues and all episodes except "Hive Announcement" and "Nic Bit My Finger" were removed from Youtube, with all presumed files of the episodes having been destroyed. The series was renewed, however, near the end of October because some of earlier video files had been found on an older computer and reposted by KingAzxoll9. It was when the series was renewed that it was decided seasons would be used. Before, LOA had only one singular name, but KingAzxoll9 decided that all the old episodes refound would become season 1, with addition to episodes after "Hive Announcement". There is also a lost season of all episodes that have been permanently lost, but the episodes themselves do not count towards the overall count of the series' episodes. Season 2 was announced in the season 1 finale "Turkeys Gotta Say Farewell" and a trailer showing the upcoming season aired September 7, 2014. Season 2 began with the episode "LOA Version 2.0" on October 3, 2014 and ended with "Two Seasons Gone" on September 11, 2015. Any information on season 3 has yet to be confirmed, although possibility of a third season was mentioned in the season 2 finale. The series is known to currently be on hiatus.
Season 1
After the series renewal in October 2013, Life of Azxoll first developed a season system, like a real series. The reforged episodes that were found after the series temporary cancellation were decided to be brought back as a good first season. On Youtube, all Life of Azxoll episodes from season 1 have a "S1" after them. The time these were filmed elapsed from Zach's 10th grade to 11th grade years (with exception to "To Kill a Mrs. Dubose"). Episodes found within episodes indicate a multiple-part episode, some of which are specials. These episodes include the following:
"Introduction" (pilot episode)
"Mall Maddness" (originally "Mall High")
"The Big Bowl"

"A Typical Birthday" (*birthday special)

"Water Battle"

"Camp Indepen'dunce'" (*Independence Day special)

"Piggy"

"Hog Fail"

"Thankful for Turkey" (*Thanksgiving special)

"Poor Name for a Christmas Special" (*Christmas special)

"Bridge Bonanza"

"On the Wrong Side of the Roadway"

"What Do Kids Do at the Mall?"

"A Trip Named Antonio"

"Prom of Azxoll" (season 1 finale)
Season 2
Announced at the end of season 1, season 2 began airing on October 3, 2014. This season continued Zach's use of his Galaxy S4 to film, although some of the cast had changed. Common season 1 characters Myles and Anthony no longer appeared in season 2, as many of Zach's friends were also rarer for the duration of the season. Rather, much of the first half of season 2 focused more on Zach's family, showing more appearances from his cousins Bryan and Johnny, as well as his mother Michele. More specials were seen in season 2, with the second Independence Day special starting up the season. Season 2 ran from the summer before Zach's senior year of high school to his first day of college at the University of Pittsburgh. Season 2 concluded on September 11, 2015 with "Two Seasons Gone," though 3 bonus episodes were released afterwards.
"I Pledge Allegiance, to LOA" (*second Independence special)

"A Nobile In Myrtle"

"Michele's Weekend"

"Zachcoming"

"The 3rd Worst Video On Youtube About Mangos" (100th episode)
"Turkeys Give Thanks" (*second Thanksgiving special)

"Deck the Azx-halls" (*second Christmas special)

"Zachworld"

"Nic's Surgery"

"Heart-to-heart Conversation"
"Equal to a Spanish Final"

"Prom of Azxoll 2 - A Turkey to Remember"

"Chicago Rummy Showdown"
"Mayweather's War Strategos"
"Ben and Buster's Cameo Trash Bonanza of All Evil"

"Inside Out"

"Kermit Under the Knife"
"Declaration of Miss Piggy Dependence"
"Jaws Jamboree"

"A Bancroftian Rabies Celebration"
"A Blue and Silver Graduation"

"Silly Snake Scheuermann
"The Class of 2015"
"Alternate Winning"

"Ocean Shitty Senior Week"

"Kevin Kan't Kamp"
"This Ass-ateague of an Island"
"Frontflop"

"An Alcorn in Myrtle"

"Hobbit Weed Stash in the Closet"
"Hot Tub Cheese"
"JMONEY8911 vs. the 2000 Feet of Satan"
"Obamacare Jellyfish"
"Six Alcorns, One Shark"
"Cards Against Zach-manity"

"Camp of Azxoll" (season 2 finale)

"Fire Blanket Finale"
"S'more Shenanigans"
"The Arachnophobia Stick"
"The Last Quad Ride"
"Two Seasons Gone"

"Bonus #5: Letters of Truth"
"Bonus #6: When I'm Grey"
"Bonus #7: The Procrastaholic"
Planned 8th bonus episode
Lost Season
When the series was cancelled in September 2013, all Life of Azxoll videos except "Hive Announcement" and "Nic Bit My Finger!" were deleted.  Unfortunately, some of the videos had no backup files and KingAzxoll9 could not reupload them. These episodes will still be remembered as Life of Azxoll episodes, just those that never got to be rewatched. KingAzxoll9's first video, "The Mole People," was created before the series but was reformatted to be tied to the series as a prologue episode before season 1. Together, these episodes create the lost season of Life of Azxoll. These are:
"Flip the Turkey"
"Flip the Turkey 2"
"Parkinglot Cartwheel"
"Vacay In Austay"

"In Midair...port"
"Plane Food"
"McCraken's House of Texas"
"Movieat"
"Failflip"
"Chocolate Car Torte"
"Garden Mattress"

"Clarion Weekend"

"Return to Camp Indepen'dunce'"
"Hide-and-Corn"
"The Fedora of Masked Amish Fleas"
"Refugee Slap Party"
"Doggie Goo"
"Jackson's Pillow Beatdown"
"iPad Scandal"
"The Snoring Bravo Bella"

"Graduation Retardation"

"Coordination Constipation"
"Foot Frisbee"

"A Noble Fire"

"Dodgesack Strikes Back"
"Basement Shenanigans"
"Fireside Azxoll"
"Black Horror"

Catventures miniseries

"Say Hello to My Little Friends!"
"Shut Up, Sophie!"
"Meow to Me"

Hempfield Bandeavours miniseries

"The Hempfield Area High School Marching Band"
"Trick the Card Trick"
"T Marks the Spot"
"Twerk Talk"
"Interlude Idiots"
"The Most Amazing Grace"
"Banding Around"
"Teenage Wasteland"

Motivating Demotivationals miniseries

"Anthony Demotivationals"
"Myles Demotivationals"
"Caleb and Clay Demotivationals"
"Kaitlyn, Nic, and Zach Demotivationals"
"Miscellaneous Demotivationals"
"Catamationals"
Plot
So far, the prime plot of Life of Azxoll episodes is random comedy, filmed whenever it occurs during everyday life or special occasions, like holidays. No prime storyline, like a normal show, is featured, but the series so far has Zach in every episode, primarily narrating the situations. The characters featured sometimes try to stop Zach from filming, an aspect found mostly in season 1, for future consent issues were resolved by season 2. Consent became an outside issue, which put a stop to Life of Azxoll for a short time and ended the original series. Future seasons now have little consent problems, as random humour (sometimes associated to pain) is rather featured, leaving the overall storyline of the show to be the following of Zach's life through usually notable events that tend to hold a comical streak.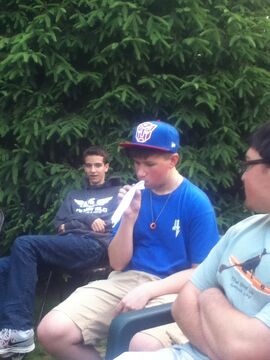 Gallery
More images depicting goings-on of the series, most images from Season 1.